Accept your style: Buddy LaHood's positivity
The technique comes as Buddy LaHood feels the emotions associated with positivity and love. The abstract expressionist paintings he creates are a part of his joy for the world. 
"I consider myself an abstract expressionist artist," said LaHood. "The word expressionist infers passion. Most of my paintings are very loose and free.  I am not that interested in the minute details. I am passionate about painting and I think it shows when several of my paintings are seen together."
The visual experience in his paintings is what keeps LaHood motivated. This motivation inspires him to create more abstract pieces that speak to his clients. 
"When a visual experience touches an artist's emotions it motivates the artist to want to create  something," said LaHood. "Inspiration happens when we see something that stirs our intellect or moves our emotions.. It causes a response in us to want to put what is inside us out there for others to see and enjoy."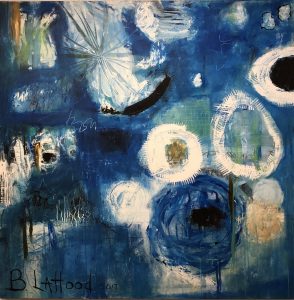 Keeping his motivation comes from everywhere he looks. Buddy LaHood believes artists need to look around and reproduce the feelings they find in themselves. 
"We artists need to look at art on a regular basis," said LaHood. "We need to look at the sky, the clouds, the grass, the trees, and everything around us asking ourselves how we can reproduce the feeling we get when seeing these things."
The feelings an artist represents in his or her paintings comes forth as their style. LaHood's acceptance of his own style came as he continued to pursue art. 
"All artists have their own style as does anyone who paints," said LaHood. "It took a long time for me to recognize and accept the fact that I have my own style. I am passionate about painting and I think it shows when several of my paintings are seen together because one can recognize my mark making style and a common theme of shapes and brush strokes."
Recognizing his progress and continuing to express himself through painting is what LaHood uses as his motivation. Creating joy through his painting is the centerpiece of his passion.